Fourth PASCH German Spelling Bee Competition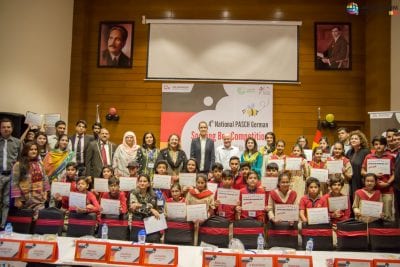 The PASCH German Spelling Bee contest, over the years has gained success and fostered the love of reading in students. This competition has encouraged students in memorizing difficult new words while gaining competency to extensive vocabulary. The German Spelling Bee Competition has become a permanent fixture in the Pasch Community of Different schools in Pakistan. For the past four years students and teachers have been experiencing rabbits with this fun learning activity. German Spelling Bee Competition not only provides a valuable educational experience for your child, but also allows them to engage in healthy competition.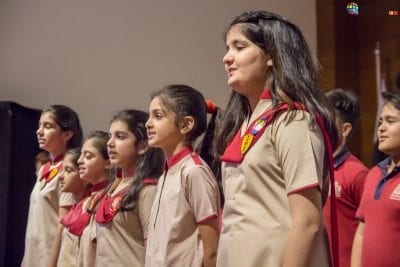 Roots Millennium Schools hosted the Fourth Pasch German Spelling Bee National round in TMUC, Islamabad. Director Annemarie Schimmel Haus, Ms Naurin Zaki and Project Director German Spelling Bee Ms Sara Niazi attended the event as judges. Students from five different schools participated in the German Spelling Bee Competition. The First Secretary and Head of Press and Culture section German Embassy Ms Christine Rosenberger attended the event as chief guest. The competition went neck to neck in the first and the second round. Roots Millennium Students clinched second position in the final round of the German Spelling Bee Competition. Ms Christine Rosenberger appreciated the efforts of students and said that the ability to understand more words allows students to become literate and enjoy reading an extensive range of material. A child's confidence level is usually boosted after entering into such competitions. A spelling bee helps them gain the confidence they need to speak in public and accept their mistakes, while also getting the applause their hard work deserves.
Roots German Language Department under the leadership of RMS CEO Chaudhry Faisal Mushtaq aims to build up a network to awaken students' interest and enthusiasm for German language and German Society. It gives a platform to students to excel and explore multiple opportunities. Roots German Language Department striving to develop students with strong language skills and analytical abilities they need to polish in higher education and future careers. Department is focused towards responding to the needs of students by providing quality education and tapping the potential excellence through cultural exposure and language diversities.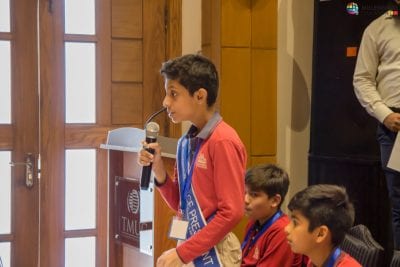 Mona Kanwal Manager Foreign Language said: "We promote open-mindedness as RMS always looks for providing multi challenging grounds to its students for academic and professional growth. We welcome all schools to enter into healthy competitions and the valuable learning outcome of spelling bee results in the children is gaining competency over vocabulary and allows them to excel at reading and writing.
Ms Naurin Zaki Director of Goethe Institute along with Saira Niazi, the project in-charge of the Spelling Bee competition moderated the competition. Ms Naurin Zaki, Director of Goethe Institute Lahore said that Students are thrilled to participate in the German Spelling Bee Competition every year.
Manager Foreign Languages, Robotics and STEM programme.
Head Office, Millennium Education.