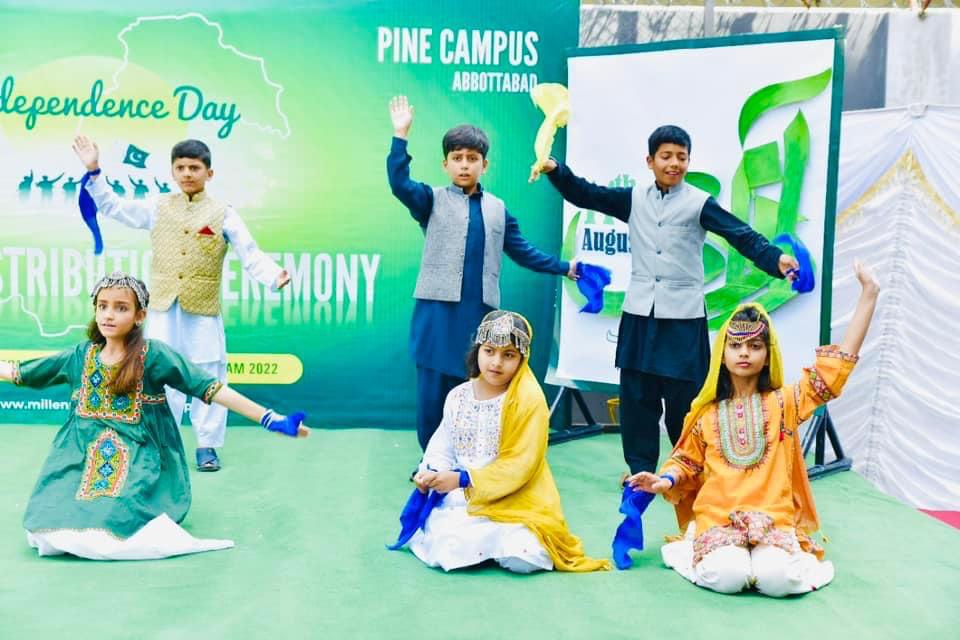 MILLENNIALS CELEBRATE THE SPIRIT OF FREEDOM
Millennials at RMS Pine Campus Abbottabad celebrated the 75th Independence Day of Pakistan with full zeal and fervour. This year the celebration of Independence Day was held in a mesmerizing way at RMS Pine campus, Abbottabad. The chief guest, DPO Abbottabad Mr. Sajjad Khan, honoured the occasion with his presence. The programme started with the recitation of Holy Quran followed by the flag hoisting ceremony done by the honourable guest. A colourful and thought-provoking performance was displayed by the early years children. The talented students of middle school performed a skit on 'Our Journey to Independence'. A musical and cultural portrayal of Punjab, KPK, Balochistan, Sindh and Kashmir was presented by the students of grade 5.
Not only the students who successfully completed their internships offered by Ayyub Medical Complex, High Court, WWF, and Al-Baraka bank, received certificates from the chief guest but also the teaching faculty of early years who worked diligently for successful execution of summer camp this year. At the end, the distinguished guest shared his thoughts on the special occasion and appreciated the efforts of the students and teaching faculty.