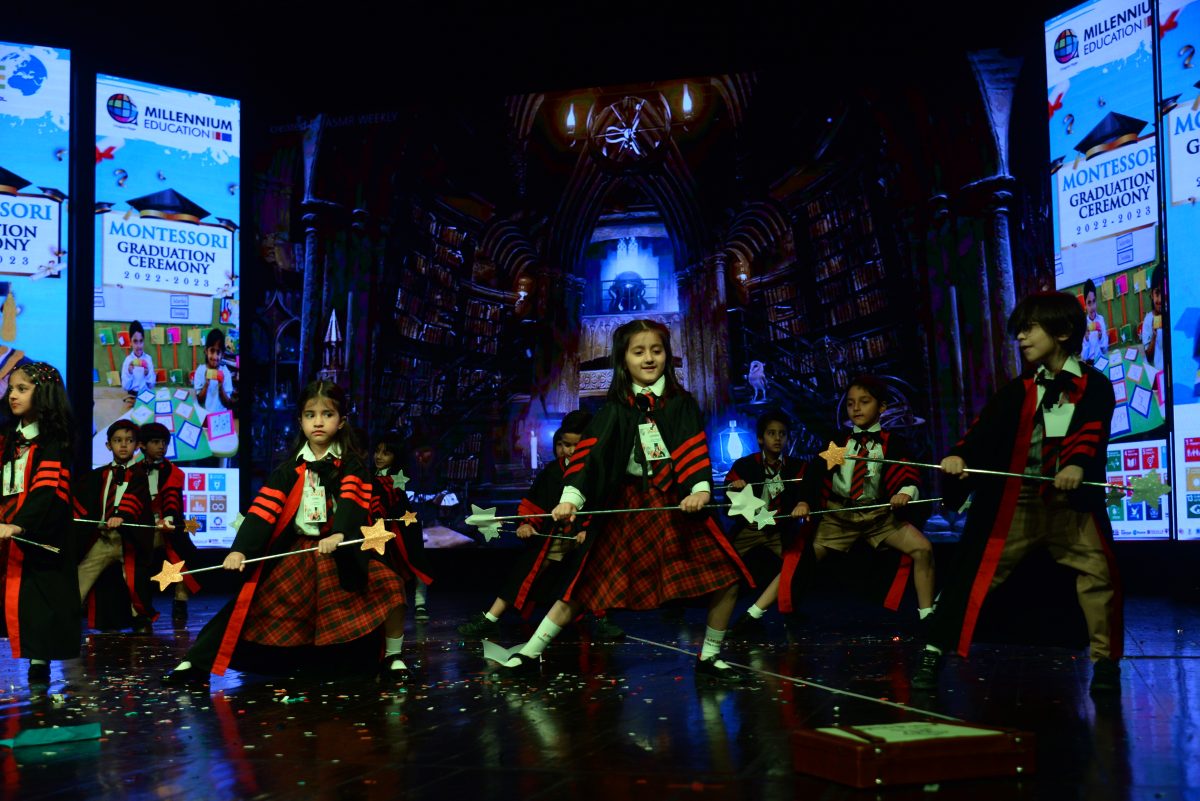 Montessori Graduation Ceremony 2023– A Time for Making Memories
Montessori Graduation Ceremony 2023 on Saturday, 27th May 2023, at the prestigious Pakistan National Council of the Arts (PNCA) in Islamabad was organized by The Millennium Education. It is one of the most precious moments for parents and guardians. Children and parents both love the excitement of graduation, and they try making it a memorable day.
Thirteen in-station campuses of The Millennium Education and Future World School actively participated in this ceremony.
The ceremony featured a diverse range ofengrossed and fascinated performances by 400 little learners of The Millennium Education and Future World Schools.The event was divided into three slots and each one of them began with the soul-stirring recitation of the Holy Quran, followed by the national anthem, cultural displays and innovative advanced teaching methodologies practiced in the classrooms.
CEO, and Founder of TME, Dr.Faisal Mushtaq imparting the event with an air of distinction. The ceremony was further elevated by the presence of the Executive Director, Mrs. Anna Faisal, and the esteemed Director of Teaching and Learning, Mrs. Erum Atif, both of whom served as steadfast pillars of support for the learners and the institution.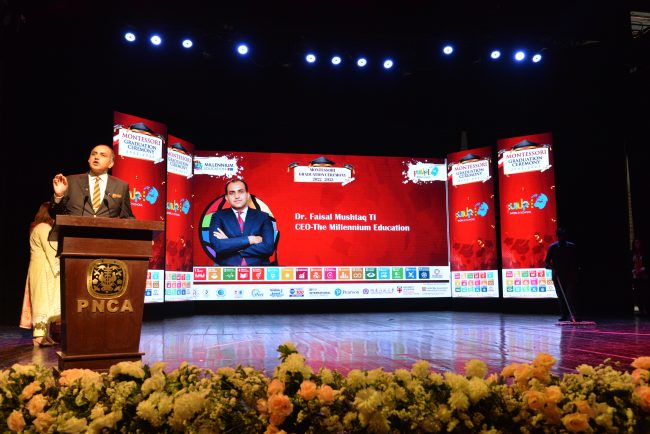 In his address to the audience, Dr. Faisal Mushtaq emphasized on the essential role of teaching and learning in a child's holistic development and imparted life lessons as well. He highlighted the unique opportunities provided by TME to foster the growth of learners, expressing profound gratitude to the dedicated teachers who have played a huge role in shaping the educational journey of each learner. Dr. Faisal commended the unwavering commitment and unwavering dedication exhibited by the TME teachers, emphasizing their invaluable contributions towards guiding learners to a bright and promising future.
The lady behind this success, Mrs. Sabina Zakir, Director of Communications, Community, and Outreach, wholeheartedly cherished and celebrated the event with parents. Mrs. Sabina Zakir wholeheartedly embraced the Montessori education, accepting the slogan "HOME OF LOVE, JOY & CREATIVIT" Her passion was instrumental in creating an atmosphere of warmth, joy, and creativity throughout the ceremony.
The atmosphere at the ceremony was filled with joy and emotion as parents watched with pride as their little angels ascended the stage in their graduation gowns. These heartfelt moments will forever be cherished by the TME faculty, administration, and parents alike, symbolizing the successful culmination of the learners' Montessori education.
The Montessori Graduation was held nationwide in all The Millennium Education and Future World schools.