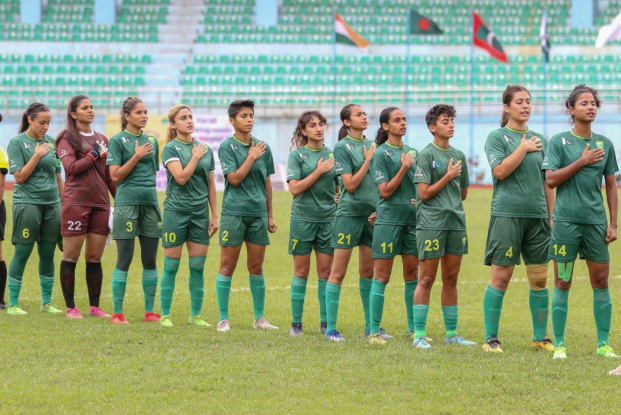 A WELCOMING WIN FOR
PAKISTAN'S WOMEN FOOTBALL
TEAM AFTER 8 YEARS!
After 8 prolonged years, a team of strong and determined women came together to bring pride to our nation. Pakistan's National Women's Football Team. Women Empowerment at a whole new level! These little glimpses become the ray of light to a better future for determined women in the future whether it's sports or any other skill.
The Pakistan women's national football team is the female representative football team for Pakistan. The team was formed in 2010 but has not yet entered the AFC Women's Asian Cup or FIFA Women's World Cup only
competing in four editions of the biennial SAFF Women's Championship. The Pakistan women's national football team made its international debut at the 11th South Asian Games in Dhaka. Midfielder Ishrat Fatima of Lahore's Sports Sciences Department was the first captain of the team. It played its first match on 31 January 2010 against India at the Bangabandhu National Stadium. From November 2014 to September 2022, the team saw no action due to the Pakistan Football Federation being suspended several times by FIFA for infighting and third-party interference. The suspensions were removed occasionally, but not in time for Pakistan to participate in the 2016 and 2019 editions of the SAFF Women's Championship, and in the 2016 and 2019 editions of the South Asian Games. As a result of no matches being played, the team lost its FIFA ranking.
But on 30th of June 2022 FIFA lifted the suspension on Pakistan Football Federation after a long period of 16 months allowing the team to participate in the SAFF championship!
On the 13th of September, Pakistan demolished the Maldives 7-0 in the SAFF CUP 2022. This extraordinary comeback was brought by surprise as the country was not expecting such a strong hold in women's football, a neglected aspect in Pakistan's sports sector. Pakistan's Women's football Team was self funded from the team uniform to the investment in transport and accommodation. Pakistan Football Federation seeks international exposure for Pakistan's women's football. Funding by the government would allow better opportunities for both men's and women's football internationally enabling the participation of Pakistan in more international Sports tournaments other than cricket and hockey. Young girls will be given the chance to learn and grow into other fields corresponding with academics, inspiring them with the thirst of success and strength.
These powerful, self-taught and determined women are the leaders of tomorrow. For the progress of Football in Pakistan.
All in all, after a rough patch for the progress of football in Pakistan. This deserved victory of our national women's team brought many rejoice and pride for our team fighting back stronger than ever. Our mistakes make us stronger and become life long lessons for a better future! Everyone deserves a second chance and I believe that our teams will not let these new opportunities slip and progress to make Pakistan's name shine brighter than any star in this world! I root for our women's and men's national football teams to stay strong headed and lead us to the FIFA CUP 2026!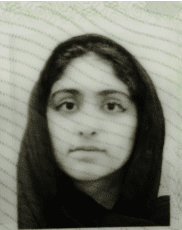 Grade: IG-3
Future World School & College, Bahria Town Rawalpindi