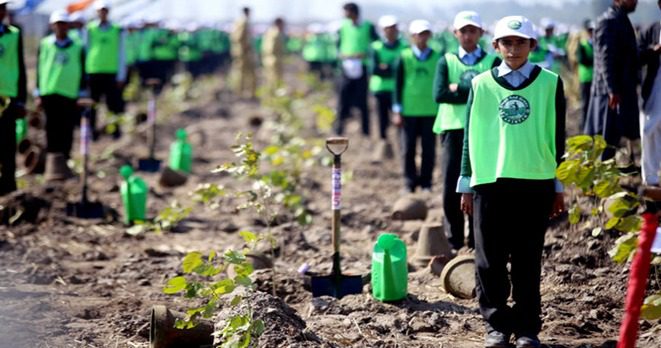 Clean Green Pakistan: Plant for Pakistan
As everyone knows trees are essential for life on Earth but we still keep on cutting them down for papermaking and wood. Trees are important in many ways such as they take in carbon dioxide and give us oxygen; they provide shelter for animals and are also an important source of medicine. Trees are also one of the best ways to reduce global warming. Trees can help stop floods. Schools should also stop using paper instead they should provide students with e-books.
The Prime Minister Imran Khan started a campaign called Plant for Pakistan also known as Billion Tree Tsunami, which is a five-year project to plant trees across Pakistan. This programme was inaugurated on the second of September 2018 during "Plant for Pakistan Day" by the Prime Minister of Pakistan. 872.3 million Seedlings were planted. The campaign was based on the Billion Tree Tsunami campaign of the former Pakistan Tehreek-e-Insaf government led by Imran Khan in the province of KPK. The objective of the "Ten Billion Tree Tsunami programme" is to revive Forest and Wildlife and improve the overall conservation of the existing areas.  It will also encourage eco-tourism.
The Prime Minister Imran Khan also launched "the world's best" Miyawaki urban forest in Lahore, which is under the project of 10 Billion Tree Tsunami project. As you might be wondering, the Miyawaki technique contains various species of plants which are planted close together so that the greens receive sunlight from the top and grow upwards than sideways. Green spaces not only increase the quality of the urban environment but it also promotes sustainable lifestyles by impacting the health and well-being of residents. This forest will made a full contribution to mitigating the effects of global warming. The Miyawaki technique is one of the best ways to fight pollution.
On the 12th of August 2021, Pakistan set a new world record of planting more than 50,000 plants in a minute! More than 12,000 students planted greens which were located between Rawalpindi and Chand ka Qila bypass. There were rows of students standing in a line to plant trees as they were also a part of Prime Minister Imran Khan's Clean and Green Pakistan campaign, the "10 Billion Tree Tsunami". The city became to be known as the "City of Gardens".
Trees are a symbol of hope and life, which most people don't understand. Trees are also living things that give us oxygen, which our life depends on too. So, campaigns like the 10 Billion Tree Tsunami should be made throughout the world to tackle pollution and global warming. Not only to benefit us but all the animals in the world. Someone is sitting in shade right now, just because a person planted a tree a long time ago. Just planting a single tree can make the world's future better regarding the fact that global warming is at its peak.
The best time to plant a tree was twenty years ago, the second-best time is NOW!