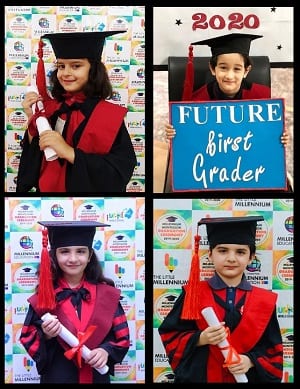 Virtual Early Years Graduation
Celebrating Success and Achievements of the Little Millennials
Virtual Early Years Graduation Session 2019-2020
TME has a distinct culture of recognizing the hard work of learners and celebrating their success. Whether it's Early Years or high school graduation, both are well celebrated at TME every year. The Early Years graduation ceremony is being celebrated to congratulate the little millennials as they are graduating from the Montessori level and will be embarking on a new journey of their academic career i.e. Grade 1.
Across the nationwide network of campuses, the Early Years graduation ceremony for the class of 2020 has commenced virtually to honor the achievements of the little millennials.
Until the start of the year 2020, we didn`t expect to celebrate this big event in an untraditional way rather than traditional one, where students used to walk down the aisle up to the stage to receive their degrees. We are glad that despite, it being organized virtually, little millennials are attending the ceremony with full zeal and zest.
It is a moment of pride for parents and teachers as they witness their little angels achieving the first victory of their life. Execution of the graduation ceremony in an unconventional way initially perceived not as joyful and encouraging as the conventional one but the excitement of students and their glowing faces seized the event and proved it otherwise.
Heartiest Congratulations to all the little millennials!